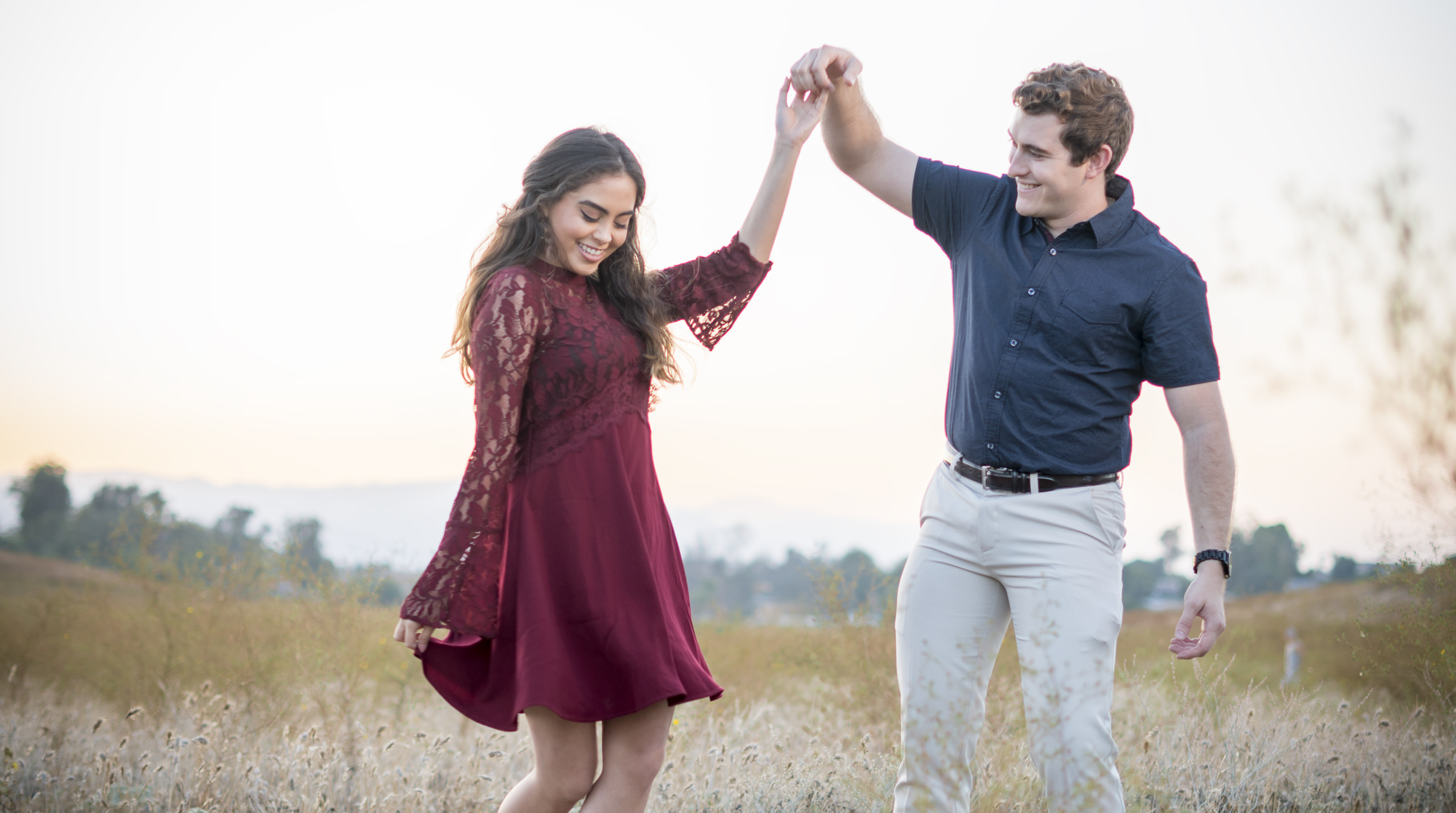 Engagement Shoot Tips + Outfit Ideas
TIME IS SERIOUSLY TICKING. There are exactly 52 days until my wedding. 52!!! This is the first time that I'm sharing the actual date online (November 19). ANYWAYS. Last weekend my fiancé and I shot our engagement photos in Temecula, California.

I posted a vlog of the shoot on my channel yesterday; if you'd like to watch it you can click here. It was honestly the biggest struggle to figure out what I was going to wear, so now that I've done my engagement shoot, I'm going to help you beautiful people figure out what to wear to yours.
Buckle up, this is a lengthy post!
The week leading up to the shoot I spent quite a few hours trying to figure out what the heck I was going to wear. After many mini fashion shows in my living room, 70% of my closet ending up on my floor (low key it's all still there), and a late night run to Target the night before, I finally ended up figuring it out. I wore this gorgeous burgundy colored dress from NA-KD. If you'd like to see what my fiancé wore, you can check out the aforementioned vlog.
Now that I've conquered the engagement shoot, I definitely have quite a few tips to share.
Tip #1: Make sure you choose something that not only feels comfortable, but is also something that you feel comfortable in. If you typically only ever wear jeans and a t-shirt, chances are that you might not feel very 'yourself' in a super sexy bodycon type dress. Your engagement shoot should be very representative of who you and your partner are, so wear something that is comfortable to you in all senses.
Tip #2: Though you do want to feel comfortable, you also probably want to look nicer than usual. So look through your closet for something that's a little more polished and put together. For example, a knit cardigan would look nicer than an old hoodie, but still provide the same amount of warmth and comfort. Engagement photos are special and I bet when you get them back from your photographer, your mom will be posting them ALL OVER Facebook.
Tip #3: If you need to iron your outfit, do it the night before and hang it up so you don't forget to the day of. It'll save time, it'll save stress, and it'll save you being potentially annoyed at your significant other LOL.
Tip #4: If your outfit is wrinkle prone, don't wear it in the car on the way to the shoot. Sitting in the car your outfit will, without a doubt, get wrinkled. So instead, put your outfit on a hanger, hang it up in the backseat, and change into it right before you begin the shoot.
Tip #5: If you're wearing a dress, especially if you're wearing a thong (sorry for any TMI), wear spandex shorts underneath. There are many engagement shoot poses that feature lifting, jumping, being held 'like a bride', etc. and with these types of movements, there is a pretty good chance that you might flash someone and your bum might end up making a feature in a photo. So definitely look into spandex shorts if you're thinking of wearing a dress. You will thank me. Your future embarrassment will thank me.
Tip #6: Look ahead of time at what kind of terrain you're going to be shooting in. The beach? A meadow? A forest that can only be reached by a hike with a semi-steep incline? If it's somewhere where the shoes you're planning on wearing might be difficult to walk in, toss your problematic footwear into a bag to bring along and wear comfortable shoes until right before you're about to shoot.
Tip #7: If your photographer tries to pose you and your partner in a pose that feels awkward, unnatural, and just plain weird, don't be afraid to say something or adjust to something that feels more comfortable. Remember, you're not a mannequin; these are your engagement photos and you want them to feel natural and representative of your relationship.
Tip #8: To match your partner you don't necessarily need to wear exact matching outfits or the same color. Wear colors that are complementary, that 'just look good together'. Avoid both wearing prints, avoid any colors that clash, and avoid any colors that are branded as something LOL (red and yellow for McDonalds, orange and black for Halloween, the list goes on…).
Tip #9: My final tip, which is something that is one of my essentials for any kind of photo shoot I do, is bring hairspray! I have super frizzy hair that is full of flyaways so anytime I'm shooting photos, I make sure I have hairspray on hand to smooth everything down and keep those pesky flyaways at bay.
Now time for outfits!
OUTFIT #1:
A fun and flirty dress- something that has a bit of attitude itself and is fun to dance around in.
My 3 favorites (besides the one I wore):
Red Off the Shoulder Flounce Dress from Forever 21
Blue Tie Sleeve Wrap Dress from TopShop
Blush Pink Satin Skater Dress from Lulu's
OUTFIT #2:
A gorgeous flowing maxi dress- something that just has that perfect flow, that makes you look like a Greek goddess or something.
My 3 favorites:
Golden Yellow Embroidered Maxi Dress from Lulu's
Off the Shoulder Striped Maxi Dress from NA-KD
Dusty Blue Long V-Neck Maxi Dress from H&M
OUTFIT #3:
A cozy cardigan combo- something to stay warm in all while looking cute and cuddly next to your boo. Paired with simple white tee or v-neck, dark denim jeans, and your favorite sneakers or boots.
My 3 favorites:
Chunky Knit Cardigan in the Perfect Autumn Brown from NA-KD
Abstract Print Open Front Cardigan from Forever 21
Mustard Cardigan from Modcloth
OUTFIT #4:
A kick butt jump suit- something fierce to show off your boss babe side!
Here are my 3 favorites:
Dusty Pink Jump Suit from Forever 21
Black and Red Floral Print Jump Suit from Lulu's
Yellow Floral Print Jump Suit from Lulu's
Hope you guys enjoyed this pretty lengthy post and I hope that these tips help ya' out!
Lots of love,
jess xo
Photos shot by Richard and Mike.